alee_grrl
I've been slowly working on finishing the bookshelves I bought (they were unfinished maple, so I had to sand and add finish to all three). I went with a clear finish and no stain since I like the light color of the maple and didn't want to add any extra steps. :) I finally got the shelves finished last week, and today I finally managed to get the books, dvds, and knick-knacks sorted and loaded onto them. My living room feels a bit bigger without the boxes of books, and the whole space feels tidier and more comfortable.
First here are two pictures that didn't make it into the Steampunk photo post since I took this one with my mobile rather than my actual camera. In both photos, I'm modeling the adorable witch's hat that I bought for myself.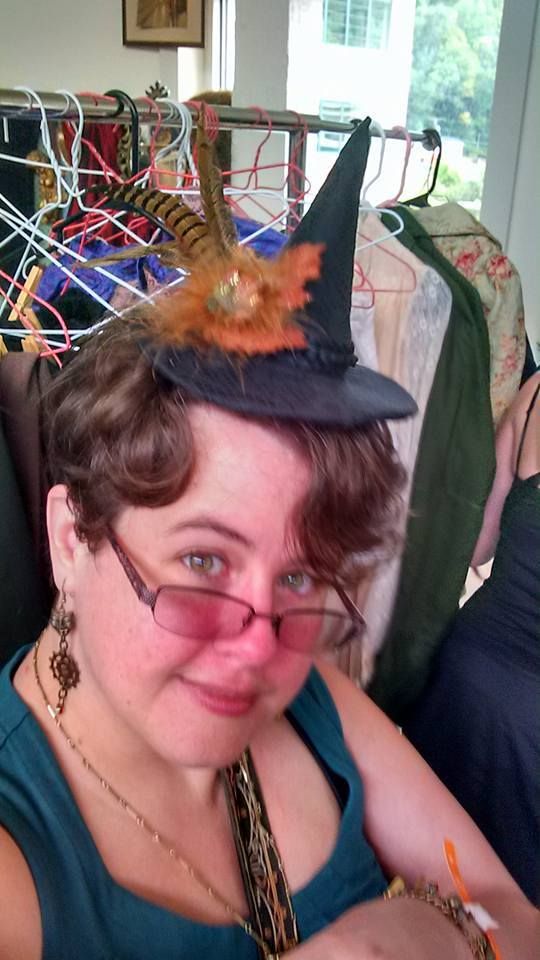 Now onto the bookshelves. My smallest shelf holds my dvd collection as well as a handful of cds and video games. It also hosts my alter space.
A better look at the alter space.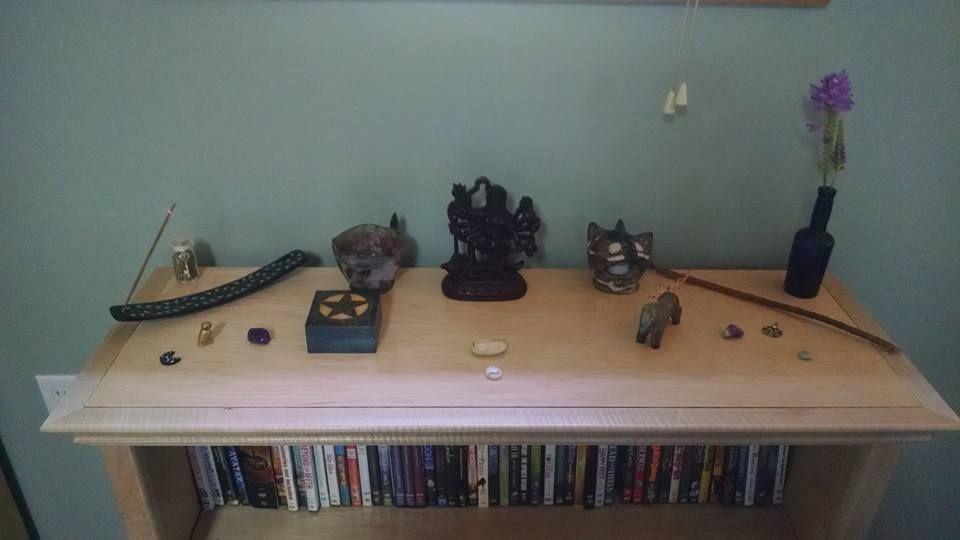 Now we have the two larger shelves. I took two photos that show each entire shelf (they're wonderfully tall shelves). I then took close-ups. Here's the first one, which hold my fiction and graphic novels. It also has my small handful of table-top games (Apple to Apples, Scrabble, Clue: the card game--which I still haven't played, Dominoes, several packs of playing cards, and a set of multi-sided dice).
Now for the close-ups of this shelf. On the very top sit my father's service flag and one of the bullets from the 3 rifle salute. On the shelf under that sit a ceramic green snake with yellow dots coiled and prepped to strike, a small mermaid figurine that came in a Red Rose tea tin, one of my pottery bowls with a steampunk robot in UFO sitting on top of it (need to re-string it so I can hang it somewhere), a small teddy bear holding a alphabet building block with "C" facing outward, and another of my pottery bowls.
This photo shows the next two shelves down. The top shelf holds Fiction books (alpha by author: A-De), a ceramic pumpkin made by one of my college friends, and a glass votive candle holder with small green flowers and holding a red candle. The candle holder was my Grandmother's and was from her childhood. Apparently her mother got it as a bonus for a box of oatmeal or something. It was one of the few things that I asked for while she was alive (a carnival glass mug was the other). She was always puzzled by my choices as they aren't technically valuable, but I just love the aesthetic of each piece and I love that they remind me of her. On the bottom shelf are Fiction books (De-Ho).
The next shelf down holds Fiction books (Hu-Z--I have no print fiction books by authors T-Z at the moment).
I didn't take a photo of the next shelf down which is the one holding games, and a few notebooks. So the next photo is of the bottom shelf which holds all my graphic novels and illustrated books. There are also a couple of boxes of envelopes to take up that last little bit of space.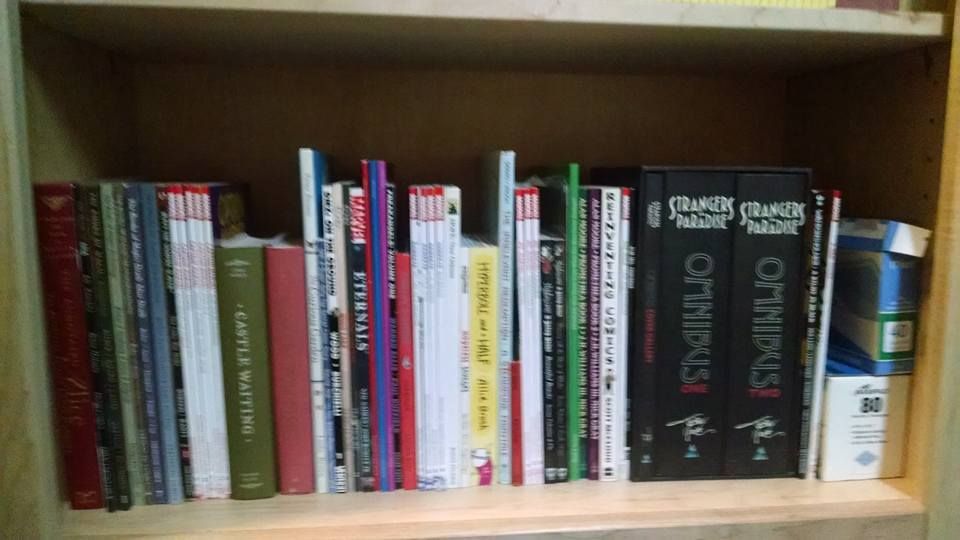 Moving on to the last shelf. This shelf holds my non-fiction and various knick-knacks. In this photo you can see both of my tall shelves together. The line the hall moving from the living room to the bed room.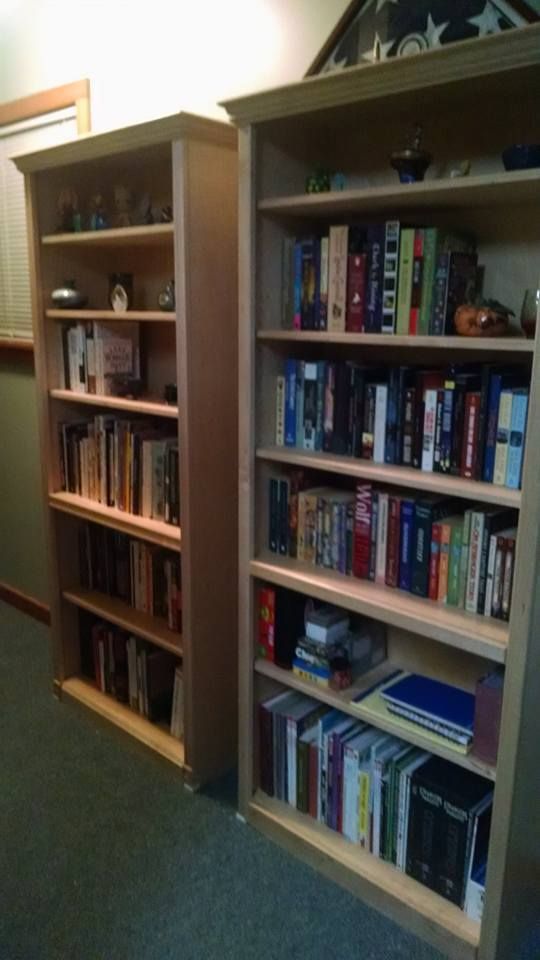 Now for the close-ups. One the top shelf is an array of figurines (from left): Albert Einstein bobble-head; a small Gumby; a witch with a patched blue skirt, purple top, and green hat holding a broom; Groot bobble-head; a dark grey fertility statue (I think it is called a mogwai but am not sure) that was a given to me in return for fetching the artist a smoothie and snack during Dragon*Con (the artist was a friend of a friend and he was working his booth solo, so someone running and fetching food and drink was a great boon), Smurfette dressed as a witch and stirring a cauldron (also a gift), a seated smiling monk holding a bottle of wine and a loaf of bread (to be honest I have no idea where I came across this one, but I've had it for ages). Next shelf down holds a porcelain vase with blue crackled glaze that fades to white and then a sort of sea green, a blown glass vase (hard to see the swirled greens and yellows, but it is very pretty), an oblong clear glass paperweight with bubbles appearing to rise up through the glass, a blown glass perfume bottle that is a lovely iridescent green swirled around the bottom and becomes clear towards the top, a carnival glass mug with iridescent rainbow overtones similar to the sheen seen on oil spills (this was the other item that was my Grandmother's).
General Non-Fiction (alpha by title: A-La), a raku fired pottery bowl, a small round silver box, a small dark blue pottery bowl, a purple glass bowl and its silver lid with purple beaded accents, a small white pottery bowl with purple stripes holding a "Keep Calm and Carry On" eraser, a silver fork with all but one tine folded down, a tiny blown glass penguin, a tiny blown glass dolphin, and a oval green beaded box.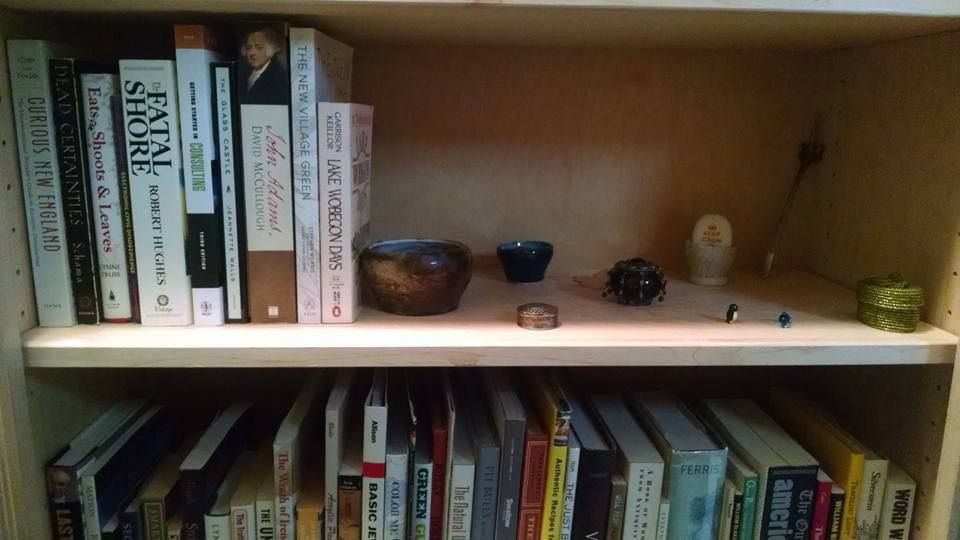 Next shelf down contains: General nonfiction (Las-Z), Arts and Crafts books, Cookbooks, and poetry books.
The next shelf down contains: Books dealing with spirituality and philosophy (The Norton Anthology of Theory and Crit was a bit hard to place category wise, so I put it with this set since it has a lot of philosophy), a square glass bud vase filled with river stones (another make-do book end), and my LGBT+ nonfiction books.
Finally the very bottom shelf contains: My law books, a pewter candlestick serving as a book-end, and psychology books.